I'm not sure if you guys have seen this recent
teensy picture of MaoTsujun:`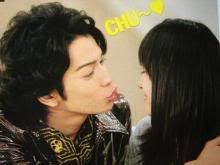 I'm not sure if this is a scene in HYD F or Jun is just goofing around
with Mao on the set of HYD F(!)

(Mmm. Hold that kiss, Jun. The paps have eyessssss....)

heh.

*Just a lil something to make us fans captivated and wanting for moaaar!



Credit: binggungmama.